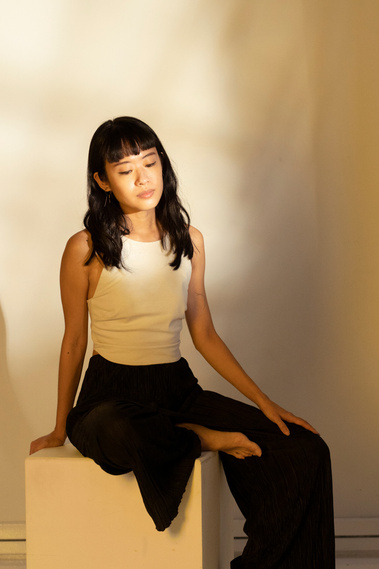 Charmaine Poh works across image-making and performance, often utilising ethnographic methodologies. Central to her practice are these concerns: the performed labour of the everyday, the gendered body, digital selves, the intersection of offline and online worlds, and the possibility of agency.
She has exhibited her work at places such as the M1 Singapore Fringe Festival, the Singapore International Photography Festival, Objectifs Centre for Photography and Filmmaking, ArtScience Museum, The Taipei Arts Festival, and The International Center of Photography.
Her work has been in featured on i-D, Nowness, The New York Times, WePresent by WeTransfer, Artsy, and CNN Style, among others.
She graduated with an MA in Visual and Media Anthropology from the Freie Universität Berlin and a BA in International Relations (International Security) from Tufts University.
In 2019, she was recognised as one of Forbes Asia 30 under 30 - The Arts.
She is based between Singapore and Berlin.
Below is a truncated CV; please email her for a full CV of art and media labour.
Education
2019 M.A. Visual and Media Anthropology, Freie Universität Berlin, Berlin, Germany
2013 B.A. International Relations (International Security), Minor. Communications and Media Studies, Tufts University, Medford, MA, USA
Selected Exhibitions
2022 YOUNG BODY, Workshopables, Supernormal, Singapore
2022 YOUNG BODY, Vector#2, The Esplanade, Singapore
2021 The Two, To Gather, VeniceArchitecture Biennale, Singapore Pavilion, Venice, Italy
2020 Ma Jie, Margins, Singapore International Photography Festival, ArtScienceMuseum, Singapore
2020 How They Love, TateLates, Tate Modern, London, UK (Virtual)
2020 The Lesson, Last MinuteGroup Show, Singapore
2020 All In Her Day's Work, Touch Me, Touch Me Not, The Substation SAD Bar, Singapore
2019 How She Loves, Parallax by AuthorityCollective, Photoville NYC, New York, USA
2019 How She Loves, ExactlyFoundation residency showcase, Objectifs, Singapore
2019 How She Loves, Parallax by AuthorityCollective, Instagram HQ, New York, USA
2019 Room, Curator's Lab, Jakarta International Photo Festival
2019 The Liminal, Queer Asia, TheBritish Museum and Paul Webley Wing, SOAS University of London, UK
2019 How She Loves, Annenberg Spacefor Photography, Parallax by Authority Collective, Photoville LA
2019 How She Loves,&PROUD Film Festival, Yangon, Myanmar
2019 Home(work), National Design Centre,Singapore Art Week, Singapore
2019 How She Loves, Projected, International Center of Photography, New York, USA
2018 Room, Women in Photography,Objectifs Centre for Photography and Filmmaking, Singapore
2018 Room, Singapore International Photography Festival, Singapore
2018 Ma Jie, College of Alice and Peter StudentSymposium, National University of Singapore, Singapore
2018 Learning to Leave, No Place Like Home, Gulf Photo Plus, Dubai
2018 Pretty Butch, Taipei Arts Festival, Taiwan
2018 Room, International Photo Festival Leiden, The Netherlands
2018 All In HerDay's Work, M1 Singapore Fringe Festival, ION Art Gallery, Singapore (solo)
2017 Room, Laatikkomo, Finland
2017 Room, Photoville, New York, USA
2016 Ma Jie, Pop-upNoise: Soul-Searching, Kreta Ayer Square, Singapore
2016 Room, If Homewas a Word for Illusion, The Substation, Singapore
2014 Learning to Leave, Noise Singapore TAP Exhibition, SAM at 8Q, Singapore
Collections
Ma Jie, National Museum of Singapore
Performances & Presentations
2021 YOUNG BODY, SCOPE#11 by Dance Nucleus, Singapore
2020 Where You Move Me Most, The Substation, Singapore

Residencies
2021 Dance Nucleus x Thinkers' Studio, Singapore x Taiwan, Virtual
2020 Asia-Europe Foundation Virtual360 Konnect, Virtual
2019 GlogauAIR, Berlin, Germany
2018 Exactly Foundation, Singapore
Accolades
2021 Singapore Art Museum Artist Residency closed call nominee
2020 PHMuseum Women Photographers Grant, Honourable Mention
2019 Forbes Asia 30under 30 - The Arts
2018 World Press Photo Joop Swart Masterclass nominee
2017 PDN 30 Emerging Photographers nominee
2017 Magnum Foundation Fund nominee
2017 World Press Photo 6x6 Global Talent nominee
2017 Abigail Cohen Fellowship nominee
2017 New York Portfolio Review selectedparticipant
2014 Noise Singapore Award
Selected Press & Media
2022 Objects Lessons Space, Singapore (Print)
2021 Kin, Unlirice Magazine, #00 Domains, Japan (Print)
2021 Kin, Nowness Asia
2021 PHMuseum:Performances of Queer Identity and Femininity in Singapore
2021 Lineal Asia: Retitled from "How She Loves" to "How They Love"
2020 The Lesson, Female Magazine (Print)
2020 The Lesson, The White Book (Print)
2020 Room, A Magazine forYoung Girls (Print)
2020 CNN Style
2020 Artsy
2020 i-D Asia
2019 Cuntemporary -The Liminal in Queer Asia
2019 Seenthesis:Visual Literacy Through Singapore Photography
2018 WePresent - HowShe Loves
2018 PHMuseum - On Womanhood
2018 Singapore Art Book Fair - 21Creatives
2018 Arthop
2018 All in Her Day'sWork, Channel News Asia
2017 Missy Magazine - December Issue -Close Enough (Print)
2017 New York Times- Lens - Room
2017 FisheyeMagazine - Room
2017 FemaleMagazine
2017 Life From Different Angles, TheBusiness Times
Selected Lectures & Dialogues
2021 Guest speaker with Seng Yu-Jin, Artsplaining, National Gallery Singapore
2021 Guest speaker with Mengwen Cao, Strudel Media, Virtual
2021 Panel speaker, LSE Photography, Virtual
2020 Panel speaker, SVR: (Re)Forming Methodologies, Humboldt University of Berlin, Virtual
2020 Lab speaker, 2021 EASA (European Association of Social Anthropologists)conference, Virtual
2020 Speaker, Adobe MAX,Virtual
2019 Panel speaker, Pride and Less Prejudice, Pinkfest, The Straits Clan,Singapore
2019 Panel speaker, Platform, Objectifs Centre for Photography and Filmmaking, Singapore
2019 Guest speaker, Kuala Lumpur Photo Awards sharing session, The KL Journal Hotel, KL, Malaysia
2018 Panel speaker, Institute of Policy StudiesRoundtable on the Arts, Singapore
2018 Panel speaker, Women in PhotographySlideshow Q&A, Objectifs Centre for Photography and Filmmaking
2018 Guest speaker, Nanyang TechnologicalUniversity, School of Art, Design, and Media, BFA Photography
2018 Speaker, Singapore InternationalPhotography Festival artist talk, Singapore
2018 Speaker, How She Loves artist talk, ExactlyFoundation, Singapore
2018 Speaker, All in Her Day's Work artist talk, NAFA and LASALLE students, Singapore
Teaching
2022 Lecturer, Year 3 students, Documentary Practice, NTU ADM, Singapore
2021 Lecturer, Year 4 students, Interdisciplinary Studies, NTU ADM, Singapore
Jury
2019 Kuala Lumpur International Photo Awards